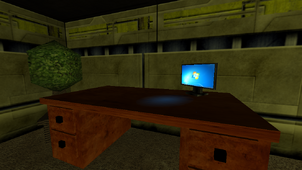 FPS stands for First Person Shooter, a game genre common, though not often featured, on YoYoGames. The genre was made popular by Wolfenstein 3D and, most dramatically, id software's Doom. Now modern FPS' are renowned for having, often, the best graphics (e.g. Call of Duty series, Crysis etc).
History of Game Maker FPS'
[
]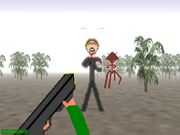 Back in the early days of Game Maker, 3D was not possible, or very limited.
Quite possibly the first Game Maker fps was 'Doomed' (not to be confused with DOOMClone, a popular series by ZX) that borrowed its gameplay and textures from the pioneer of fps gaming, Doom. It had the player fight through several levels (actually more advanced than more recent GM fps') against all the traditional Doom monsters... only with a relatively weak story. Rather than using Direct3D, which was not integrated yet, it utilized an external library called Gadget3D. Another game called Bruce3D was also reportedly made using the technology.
However, what truly sparked the GM fps revolution was the 'FPS Example', by Mark Overmars. It came with a .pdf tutorial detailing 3D in fps games. Though quite fundamental in popularising GM fps', many users simply replaced the sprites with their own (usually poorly) hand-drawn images. Because of the substantial amount of these re-textured 'FPS Example', quite commonly, the term 'tutorial rip-off' is used (though it could also be used to describe other rip-offs of other tutorials).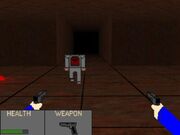 But not all Game Maker FPS' are tutorial rip-offs, in fact, many use their own build-from-the-ground-up engines to produce their games. Or even users like ZX editing and changing the code so much that even the foundations have been substantially edited, leaving us to predict that only a few 'example' lines of code remain.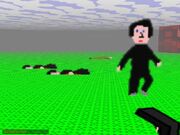 Many Game Maker FPS' range in story, setting and gameplay, no matter how much of the original 'example' code remains, or was even used.
Several popular examples of GM fps' are: ZX's DOOMClone series, Cactus' Mondo puzzle series, Darth Krattus' Eidelon and many, many more...

A number of horror first-person shooters were also created by Ray O'Bannon for his RavensBlight arcade section.
A 3D interpretation of the old Splatterhouse beat 'em ups was produced in Game Maker 6; it was later re-implemented as a GZDoom mod.
Anvil Software (YoYoGames) has released several Wolfenstein 3D homages, namely Tower of Anvilstein 3D, Mace of Fate, Castle Totenschloss, Rise of the Iron Knights, and most recently Fuchsenstein 3D.
Marchi Games has produced Survivor: Left Behind, FPS WIP demo and System Crash.
Following the shuttering of the YoYo Games Sandbox, one of the most common sources to locate Game Maker FPS games has been the Game Jolt and itch.io websites. Examples include downloads for 8Bit-Killer, Blobland Wars and First Pixel Shooter, Dark Birthday, Superman, Ice Skating, Escape to Survive, Dr. Smith 3D, Termination, Hidden Grounds and Hidden Grounds 2, Doom Labyrinth, Rodlatt, Doom Indie Remastering, DooM test FPS, Imprisoned, Krypts of Kazzerak, Murder Massacre Master, Retro Gunner 8-Bit, Psychedelic Assassin Squad, Lost Tomb, Mercury Station, Re-Doom and Dark Spasm.
Some of the most notable recent FPS games made in the modern GameMaker Studio have been Post Void (which is featured on the YoYo Games Showcase), Dark Spasm, Prometheus Rising, and Gun Godz by Vlambeer.
Evolution of Technology
[
]
Currently, Game Maker fps' quality is decided by who makes the game. These people range from pros (e.g. ZX, Kamaga, andyh444, Jazzmaster9, gameargus) to medium (Joe Anderson :P, Darth Krattus, Agent 9, Trackian, Wisemeat56, Kausill, Keonesan, LGstudios, Alldesplay Games, Master Exploder, -GARYK-) to the beginners (Lazlo319, Gamer123456789).
Pros and Medium-level FPS' creators are actually quite close in level, even some of ZX's games may fit in the medium-level category. Also, some medium-level makers have games in the pro category, such as Joe Anderson, whose games are pretty revolutionary in terms of technology.
People also put out their own engines for others to use. Some good examples of this are Joe Anderson's 'Blood Reborn Engine', wisemeat56's 'Reloaded Engine' and ZX's 'DOOMClone' engines (most recently Mercury's Moon Engine ).